This month's Collider Cafe showcased another multidisciplinary group of local creatives, each providing their own take on the blending of art and science. As seems to always happen, a theme organically arose from the five presenters. What tonight's presentations left me with was a more nuanced understanding of the power of creativity and sharing vulnerabilities to help move us through periods of grief. Several of the speakers gave us a glimpse into deeply personal situations, and an idea of how they coped with potential devastation through their art.
The evening's first presenter was Rachel Rozanski, a visual artist whose work is heavily influenced by her background in science. Her portfolio of photography and drawings examine a strange space where organic and biological components mingle with the inorganic, plastic influence that we have on our environment. The central tenet of her work is to identify and explore the unnatural synthesis between the natural world and the impact of industry. Within her presentation was work from several series, mostly based around field work that she had undertaken in different locales. One collection, inspired by work in Iceland, depicted various sea creatures gathered from tide pools, their decay, and the damage done to them by plastics in the ocean. Another, from an Artist in Residence stint in Nunavut while studying the impact of invasive species, explored the impact of pollution on even the most isolated areas. Overall, Rachel's art exhibits a stylistic similarity to scientific illustration, but with an alien, slightly dystopian, alternate biological timeline as its subject matter.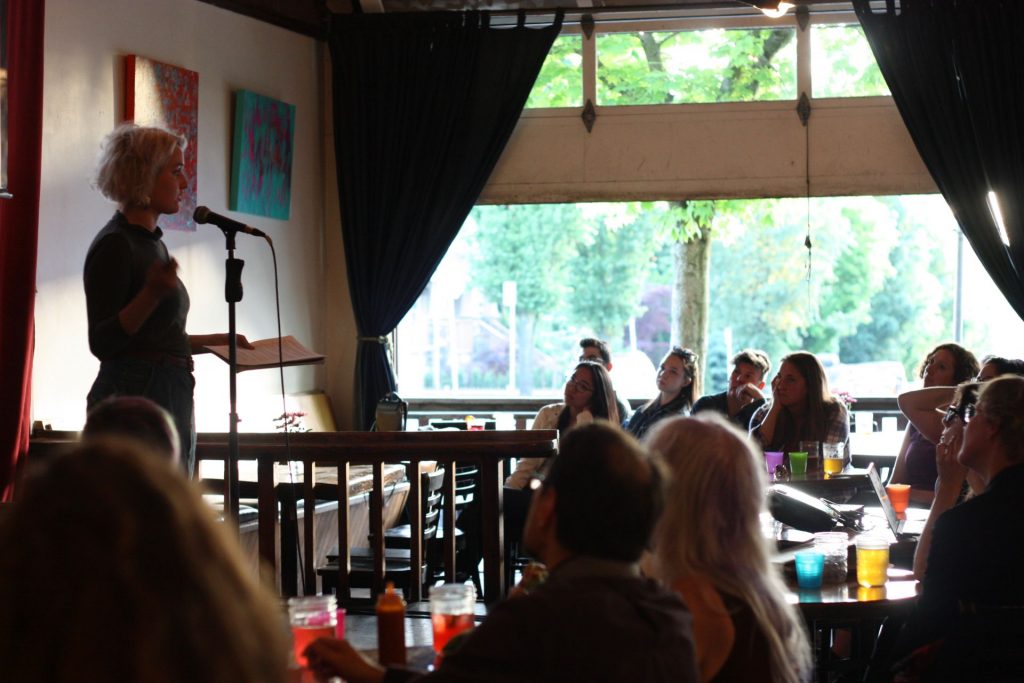 Next up was Armin Mortazavi, a science cartoonist, who uses cartooning as a means of both education and introspection. Armin began his presentation discussing his own struggles with depression and anxiety, as well as the difficulty of initiating and maintaining a creative work ethic. He described the importance of balancing optimism and pessimism in the creative process, and the value that comes from doing and sharing work, as opposed to relentless self-criticism and editing. After this, he recounted his experiences producing several educational comic strips for school children. The first two comics were successful, helping kids learn about the importance of sleep and mental health, respectively. Armin's main anecdote revolved around the creation of his third comic, about nutrition. While he was supposed to be developing his pitch for it, he suffered a broken ankle, and the loss of his grandmother. In this time of grief and helplessness, he found inspiration in his grandmother's courage and self-confidence, which she has used as an Iranian immigrating to France. The drive to, as Armin put it, "actually do sh**," led to his developing a completely interactive, cross-cultural, pirate-themed nutritional education game, which wowed the children and adults who experienced it.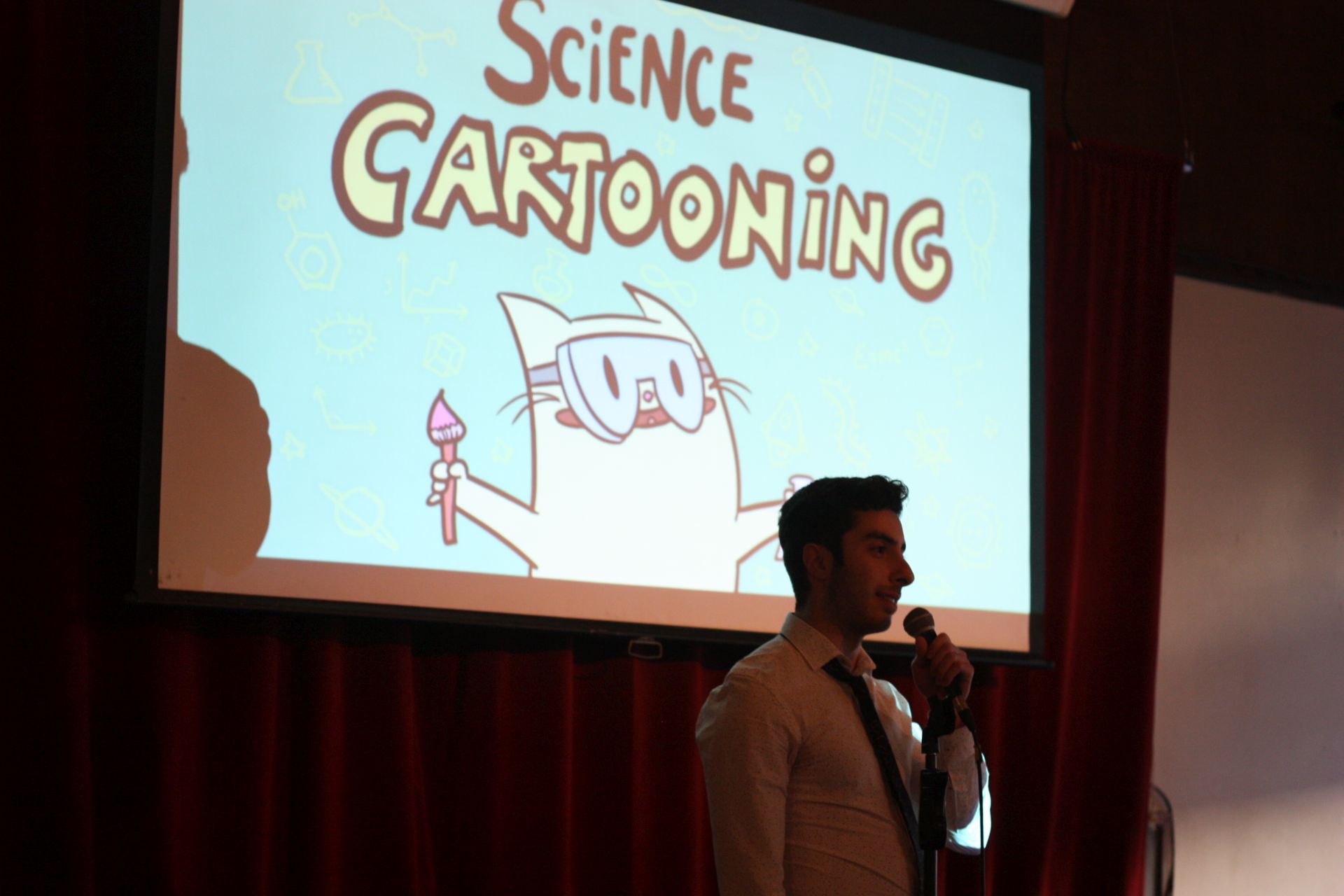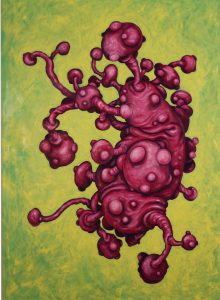 Our third presenter of the evening was Cheryl Hamilton, a conceptual artist and professional sculptor. She expounded on the impact that an extremely rare syndrome caused by the mutation p53 gene, called 'Li-Fraumeni,' had had on her family, and how she used drawing to come to terms with the consequences of this mutation. Li-Fraumeni puts carriers at an extremely high risk of cancer, up to 90% by the age of 60. Cheryl's family had been devastated by this mutation, and she coped with the loss through drawing, or as she calls it, 'dreaming while awake.' After losing her brother while he was just a child, her sister while in her 30's, and her young niece, Cheryl, who luckily does not carry the mutation, became deeply involved with 'Hannah's Heroes,' her sister's research partnership with scientists at B.C. Children's Hospital. They raised money to purchase equipment for imaging glial (brain) cells, and these images are the foundation of Cheryl's work. Each drawing is an artistic study of the various emotional relationships that she experienced during her sister's battle with cancer. The work explored aspects of neuroanatomy, such as the brain stem, frontal cortex, and even individual strands of DNA. One of the most powerful pieces came from Cheryl's working through the discovery that she was a bone marrow match with her sister, and the fundamental bond that these transplants created between the two of them.
Following Cheryl was Marlene Swidzinski, a comedian, humorist, and technical writer/editor. Her talk flowed organically and expansively, touching on many subjects throughout her life, education and career. She began with her youth in Saskatchewan, going to 'bush parties' in the Duck Mountains. This early exposure to rugged terrain instilled a geological interest throughout her early life. In university, she began to wonder about life's big questions, explored through her degree in philosophy. This led into several writing projects, including science fiction work, several published papers on the history of science, and work on ontogeny versus phylogeny, during her pregnancy. Her combination of writing aptitude and scientific knowledge led her into a career as a technical writer, along with her stand-up comedy pursuits. Marlene's comedy plays with fluid language concepts that link the mechanical world of science and engineering, with the lust and sexuality of human bodies. She concluded by showing a video of one of her jokes, a sexually-driven bit about Schrodinger's Cat and quantum mechanics.
The final presentation of the evening was a personal story told by Kayla Glynn, a science communicator and researcher, who is involved with Story Collider, an organization that holds story-telling events. Kayla's story was about the journey through an unusual but excruciating back pain problem. She walked us through the first occurrence of it, as well as the physical and mental drain of ongoing back problems. Tied up within her story were several misdiagnoses, including for an incredibly rare spinal fusion disorder. Throughout this painful, disillusioning process, Kayla fortified herself mentally, always prepared for another terrifying misdiagnosis. When her condition was finally nailed down, as fibromyalgia, she found little relief in having a label for her pain, and her anxiety settled in. Now, older people slap her on the back, telling her that she doesn't know real pain, or call her a hypochondriac, while she frequently has to turn down the opportunity to surf or hike with her friends. Kayla left us, and closed the evening of presentation's, with one final question: who else around us is suffering silently?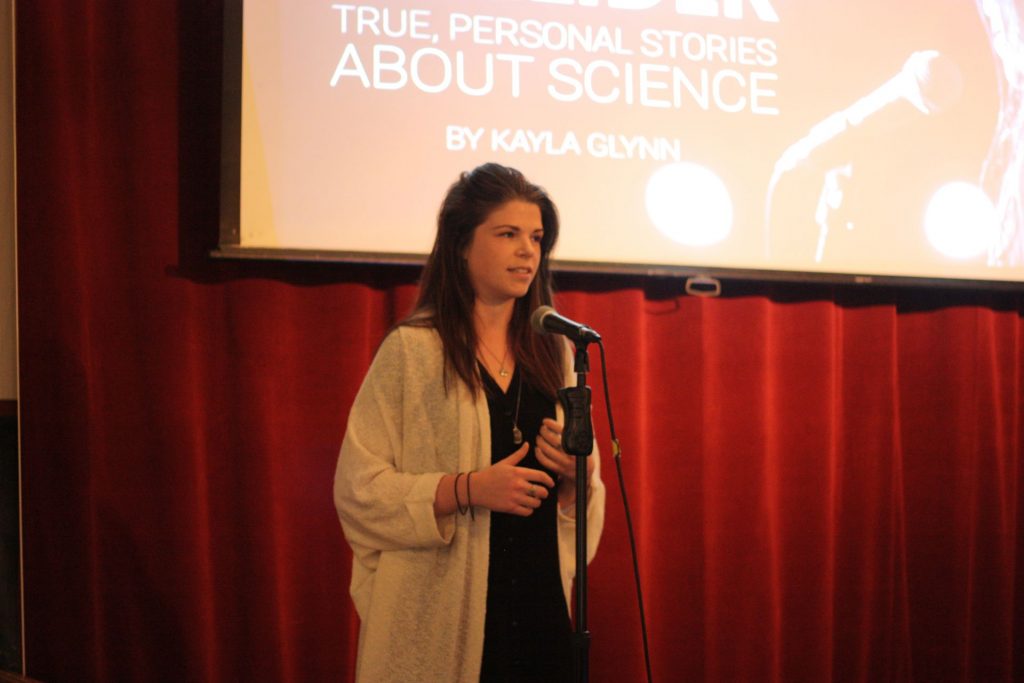 Thanks to Cafe Deux Soleils for once again hosting Collider Cafe! Collider Cafe will be back in September to bring you more mingling of art and science.