Interstitial: Science Innovations by Canadian Women was a Curiosity Collider exhibition at the Beaumont Studios, running from June 8 to June 21, 2018. The theme of the exhibition revolved around work by women in STEM fields (Science, Technology, Engineering, and Mathematics), profiling work and achievements by Canadian women in all fields of science. At the core of the pieces from all three artists was an exploration of the complex dynamics of gender in supposedly objective scientific industry. Why are women notoriously underrepresented in STEM fields? In what sense are women accepted into the male-dominated world of professional science? How can we ensure that women get equal opportunity and recognition? Questions like this, and many others, were raised and examined by the three artists.
Ele Willoughby is an ocean-going marine geophysicist by day and printmaker by night. Her work in the exhibition consisted of six portraits, profiling six of Canada's most decorated and noteworthy women scientists:
Each of these portraits is intended to bridge a gap between the achievements of these women and their place in history. Ele created these elegant portrait prints by carving the images into the negative space of the linolium. This means that the representations are faithful once dipped in ink and stamped. Along with the prints, QR codes provided a more in-depth biography of each woman, to help with Ele's aim of education through art.
Cheryl Hamilton, who also presented at last month's Collider Cafe, is a conceptual artist and professional sculptor. The inspiration behind her work comes from a deeply personal place. Her genetic lineage contains a certain gene that greatly inflates the risk of cancer, and she has lost several family members, including siblings, due to this. Cheryl is now the president of Hannah's Heroes Foundation, a research partnership with scientists at B.C. Children's Hospital, through which she supports cancer research in B.C.
Her experiences dealing with helplessness, modern medicine, and grief came through in her drawings and paintings. The imagery that she created blends emotion into complex biological structures, inspired by the microscopic scenes viewed by cancer researchers. Her ability to explore her turbulent relationship with these tiny actors so intimately gives us some insight into both the pain of loss, and the beauty of coming to terms with that loss. While Cheryl's work did focus less on scientific women and more on personal stories, the power in it is undeniable.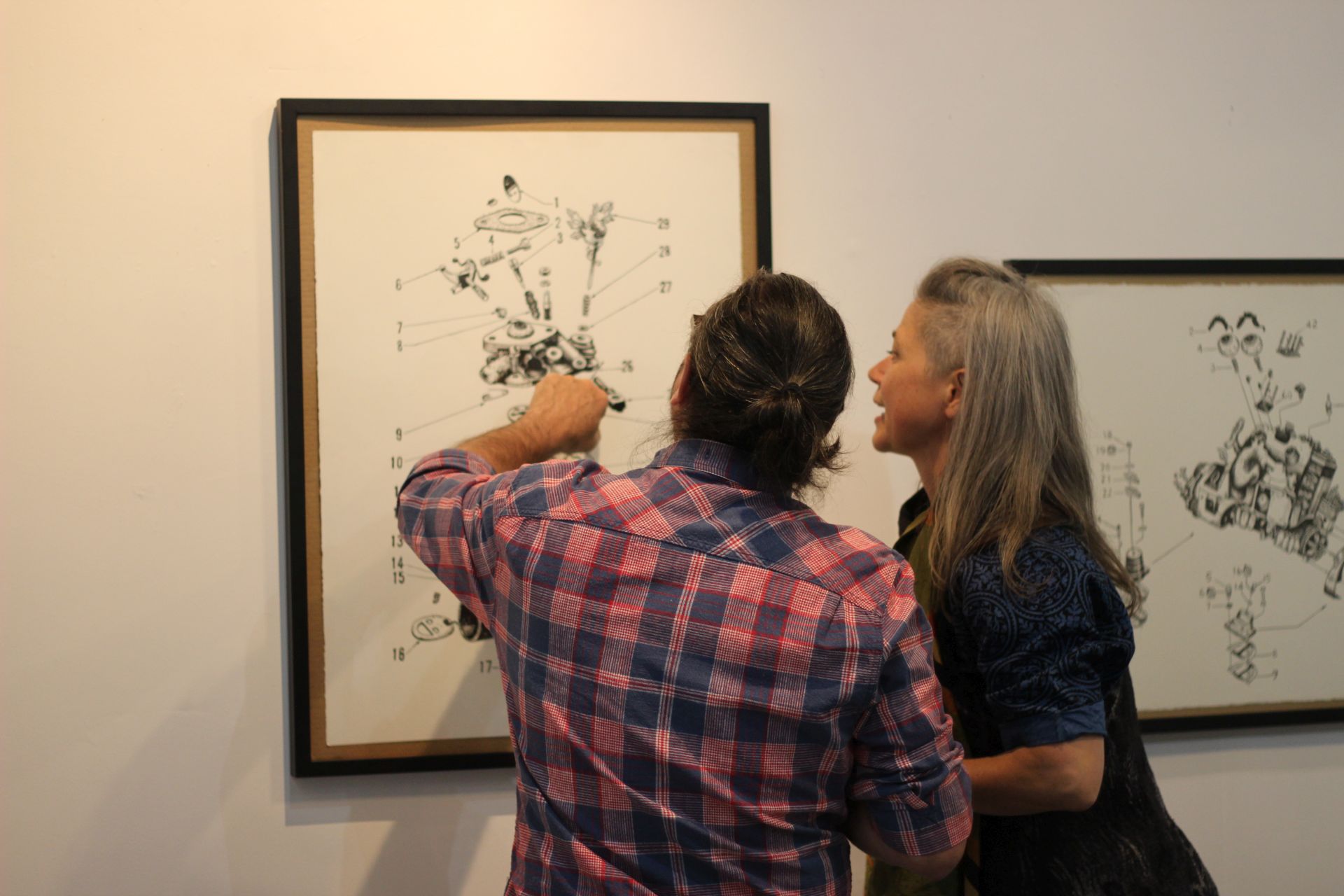 Paige Blumer is a medical illustrator, and this unique perspective gives her insight into the world of medicine, and medical professionals. Capitalizing on this unusual position as both outsider and insider, Paige used her digital imagery to explore the spaces that women are carving out for themselves, which are often outside the public eye. Just as she is able to exist in her uncommon role as a medical illustrator, Paige's work shed light on the blossoming variety of positions and opportunities for women within the scientific industry, and the bright future inherent in this.
As an interesting side note, Paige met Katrina, the model for her work, at a previous Collider Cafe, which is a wonderful testament to the opportunities for collaboration between talented, curious individuals in this multidisciplinary unity.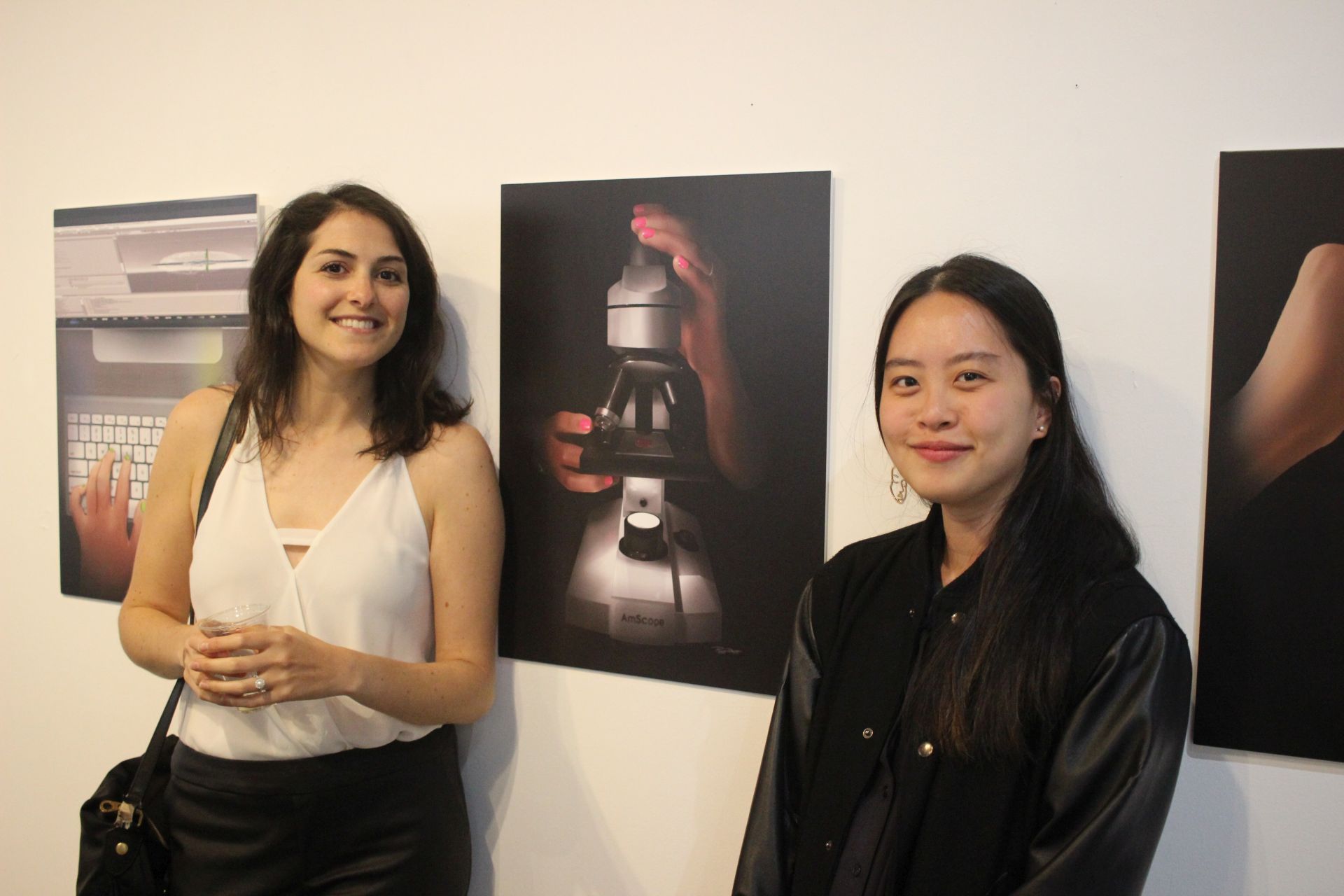 Acknowledgement
We would like to thank eng.cite and WWEST for their generous support for this exhibition and associated events.